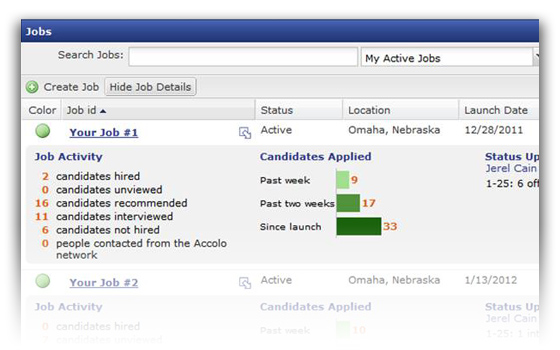 Job Dashboard
Check the status of all your open positions in one glance.  See key data on how each job is performing, including: hires to date, interviews to date, applicants to date, and current status.
---

Candidate Dashboard
Quickly and easily manage all your job applicants in one location.  See candidate source detail, location or residence, resumes, interview results and scores, hiring manager notes, and current status.  Schedule in-person interviews and email applicants all from within the application.
---
Automated applicant follow-up
Did you know that 94% of job applicants never hear back from an employer after they have applied for a position?  Now, whether an applicant doesn't meet your minimum criteria when applying, is rejected after an interview, or is simply waiting with hundreds of others to know if the job is still open, your automated system will never leave candidates in the dark.  Build your brand, customer loyalty, and employer reputation by creating a positive hiring experience for would-be employees,  Applicants can even sign up to receive company-specific job alerts when you're hiring again.
 "Start Turning Your Applicants Into Advocates!"
---
Embedded Universal Best Practices
Rest assured that you have chosen the right solution, because TalentWoo's cloud recruiting platform powered by Accolo ensures that every job adheres to the Top 10 Hiring Best Practices that help organizations hire and retain top performers.  These practices recognize that hiring managers have many priorities and that candidates may also be consumers, referral sources, future hires and investors.
1.      The hiring process should be easy for the Hiring Manager
2.      Every job is unique and should be profiled and managed accordingly
3.      Every stakeholder deserves to be treated with courtesy, respect and complete confidentiality.
4.      Every recruiting effort must actively leverage and follow-up with referrals, the best source of candidates
5.      Candidate searches must incorporate all sources, including traditional & non-traditional direct sourcing methods
6.      The hiring process must be adaptable and responsive to different job types (executive, technical, non-exempt, etc.)
7.      Diversity sourcing should be included with every job.
8.      Every candidate deserves a fair and equal opportunity to apply and receive job-specific consideration.
9.      Every candidate deserves follow-up and closure, regardless of outcome.
10.    EEO data capture, applicant tracking and reporting must be complete and accurate for every job.
---
Reporting & Analytics
---
---